We made pancakes today as it is the day before the start of Lent. We enjoyed making them and we had them with lemon and sugar.
Category: FSU Blog
We made Jemima Puddle Duck pizzas. We used muffins, cheese, tomato purée, ham, sweet corn and peppers.
We toasted the muffins then added the toppings and then placed them under the grill.
Category: FSU Blog
We had a visit this morning to our class from Ton Kitten. We have been reading the story written by Beatrix Potter about Tom Kitten. We have made our role play area in class into Beatrix Potter's cottage. We are really enjoying finding out about the different animals. I wonder if Tom Kitten will…
Category: FSU Blog
We have a had a busy day today making lots of things in Santa's workshop. It was great fun we got to dress as an elf and take lots of things home that we made.
Category: FSU Blog
We had a very special visitor this morning. We all had a special breakfast with Santa and he brought us all a present. We played some some games like pass the parcel. He talked to us and we told him some jokes and had our photograph taken with him.
Category: FSU Blog
We had all written a postcard to someone and posted it in the postbox after we had sent a parcel to Mrs Burn's friend in New Zealand.
Category: FSU Blog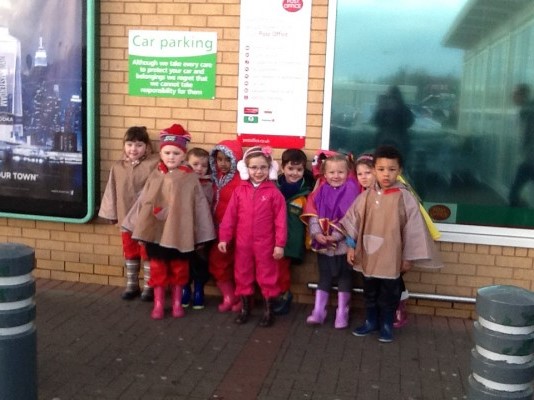 Our role play area in school is a post office. We wanted to find out more about a real post office. We walked to Asda where there is a post office.
Category: FSU Blog
On our way back to school after visiting the post office we passed the library so we stopped to have a look in the library and we listened to a story. We had to remember to be very quiet while we were in the library so that we didn't disturb anyone.
Category: FSU Blog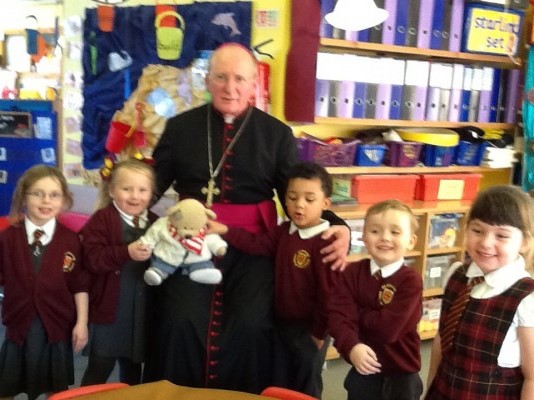 Bishop Tom came to visit our school. When he came into class we asked him if he would have his picture taken with us and Ted.
Category: FSU Blog
We made a Menorah from playdough, fruit and pipe cleaners. There are nine candles and they stay lit for eight days during the festival of Hanukkah.
Category: FSU Blog
We have been learning about the Jewish festival of Hanukkah. It is the festival of light. We made some of the special food from the festival -potato latkes. They tasted really good.
Category: FSU Blog
We were given some pumpkins which Mrs Burns made into soup for us. We all tried the soup and we liked it. The soup was orange it was made from pumpkins, potatoes and onions. It made us feel warm inside.
Category: FSU Blog