In the last few weeks we have been working with Mrs Gillies. We have been working with her in design and technology and making felt pencil cases. Some of us struggled,but it was worth it! We had to sew on our initials and either a heart or a shooting star. We had to then sew up the sides and keep…
Category: Year 3 blog
During our Come and See topic we have been looking at choices. We have thought about good and bad choices we have made and how we can examine our conscience to help us understand these choices. We have created posters as a guide for year 1 children and shared them with year 1 today. There was some…
Category: Year 3 blog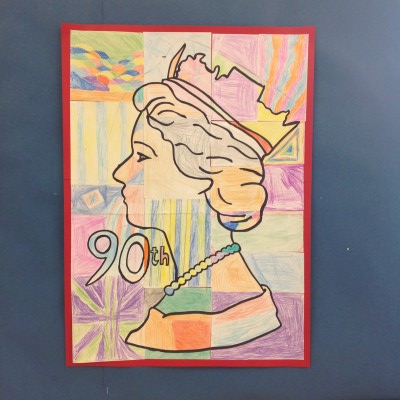 Today we have been talking about the queens 90th birthday. We have been talking about what the queen has been doing over the past few years. We have learnt that she has six thrones at Buckingam Palace. We have all been colouring pictures and stuck them all together to make a big picture of the…
Category: Year 3 blog
Today we have being looking at plants and roots for our new topic. There were different kinds of roots. Here are some roots from a weed. The roots spread out to collect water.
By
Olivia and Molly
Category: Year 3 blog
Here are some wonderful pictures of the children as Romans with the shields they created. They tried some battle techniques of the Romans like the 'tortoise' formation to keep them safe from enemies. Some of the children showed their best angry Roman face and I certainly wouldn't want them running…
Category: Year 3 blog
We have had a Roman feast this afternoon. We were lying on our tummies just like the Romans would have done. We tried some foods like pomegranate, figs, dates, celery and honey. Here we are having a wonderful time
By All of year 3
Category: Year 3 blog
Today it's Roman day so we decided to be Archaeologists and study poo, yuck! We had to find food in the poo and look for clues who did the poo there was a choice who did it Romans, Stoneage and modern. It wasn't poo but it was very realistic and it smelled really bad. Even if it was a bit smelly…
Category: Year 3 blog
Today we dressed up as Romans and Celts.We did lots of activities including searching through poo,Roman feast,making shields,Roman months,battle formation and Roman quiz. IT WAS ROME MUCH FUN!
Category: Year 3 blog
Yesterday when we went to Martin Mere we went pond dipping and we caught some water mini beasts there were lots of them including a ramshorn and a pond snail there was also a fish in the ponds. We were walking around with year two . We had a challenge to try and find a Giants wellie boot and it…
Category: Year 3 blog
Today we made RE powerpoints on the netbooks. All of them were beautiful in different ways. There were some about fire and wind, the gifts of the Holy Spirit, poems and more! We showed each other our powerpoints no one had made a silly powerpoint ,we all tried our best.
Click here to see my…
Category: Year 3 blog
Today we were reteling the story of when the Holy Spirit came to the apostles.We created a shadow puppet show.It showed the flames over their heads.
By Josie & Grace
Category: Year 3 blog
Today we have used strips of paper and we have weaved the paper inbetween straws on wood like the celts would making their round houses. We used the technique of wattle and daub.
By Lucas
Category: Year 3 blog