Yesterday we went to the concourse shopping centre and took photos on the Ipads.
We took photos of Nye Bevan Swimming pool, the Library and the Youth Centre. It was fun! :)
By Ruby .
Category: Year 4 Blog
We have been revising subjects for SATS such as: GPS, reading and maths. Level 6 students are working on a piece of writing with Mrs.Pringle. Also a group of boys have been writing with Mrs. Pringle. We are working really hard and feeling confident coming up to the tests!!
Reece, Nathan and…
Category: Year 6 Blog
reading
maths
students
We had a School Council Meeting today. April chaired the meeting and we followed the agenda. We decided that every Wednesday would be a 'No Ball Day'. Mr Hennigan said that even though the teachers didn't want it, it was the power of the school council to make the decision. We voted…
Category: School Council Blog
Last week we started to look at Rainforests. We looked at a video about Rainforests around the world and I liked it. It was narrated by David Attenborough!
By Ben.F.
Category: Year 4/5 Blog
Rainforest
Lately, we've been practising SATS. Some of the Year 6's have been doing Level 6 SATS Tests. Miss Pringle has helped me, Jen, Isabel and Joel with our Level 6 Maths. We all agree it was slightly tricky but it will help us out with our real SATS.
From April
Category: Year 6 Blog
SATS
Practise
Yesterday evening, Abi, Ethan and I took part in the Cross Country Championship and we were AMAZING! All our hard training worked. Abi came 3rd out of the girls race, Ethan came 13th out of the boys and I came 25th out of the girls too. We did really well and represented our school…
Category: Year 6 Blog
cross country
amazing
success
Today some of the pupils in Year 6 are having a SATS club to revise for the upcoming tests. We have been working very hard today on past papers. Wish us luck!
-Jen and the SATS clubbers.
Category: Year 6 Blog
On Tuesday we had a special day in school to think about Oscar Romero and his work on fairness and justice. In Year 1/2 the children designed badges, coloured a Romero cross and learned about fair trade fruit. They listened carefully to the story of his life and were very thoughtful in their…
Category: Year 2 Blog
This is the dance routine the children have been learning in their dance lesson with Miss Aldridge. As you can see they have tried really hard and we are really proud of their progress.
Well done year 3/4 :)
Miss Hulse
Category: Year 4 Blog
Yesterday we went to Farington Recycling centre to learn all about how to reduce, re-use and recycle. We got to see the huge amount of waste thrown out each week in Lancashire and how we can help to reduce this. We all enjoyed ourselves and were shocked to see all of that waste!
Year 3/4
Category: Year 4 Blog
We made a picture using a sheet and lots of different seeds. After we had made the flower we added a caterpillar, snail and butterflies.
Category: FSU Blog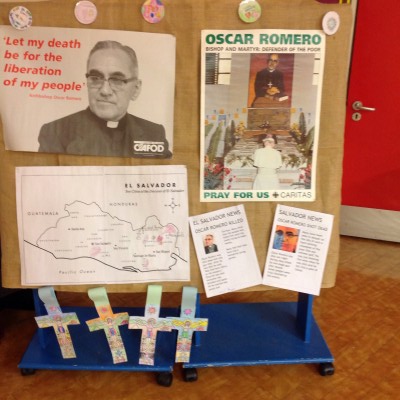 Collective worship with the whole school to celebrate the end of our Spirit of Romero day.
Category: FSU Blog