We used a mixture of chemicals and red food colouring to make our model volcanoes erupt. It was brilliant to see the 'lava' coming out of the top and running down the sides.
Category: Year 4 Blog
We have been using our drawings of flowers to design and make printing tiles. We had lots of fun using paint and the rollers to make prints of our tiles. They look great!
By Maisie
Category: Year 2 Blog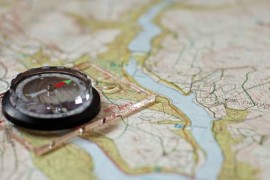 Yesterday the Y5s completed their two week Orienteering course. They worked brilliantly well together in order to find their way around a map and used wonderful communication skills to complete some really difficult problems. Well Done Everyone!
Mr B :-)
Category: Year 4/5 Blog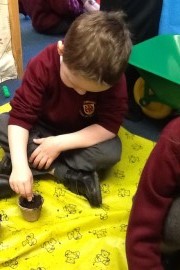 We are hoping to be able to taste some of the things we planted. They were cress, runner beans, carrots, lettuce and spring onions.
Category: FSU Blog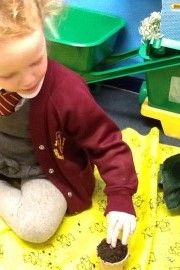 The seeds were all different sizes that we planted in our garden centre role play area.
Category: FSU Blog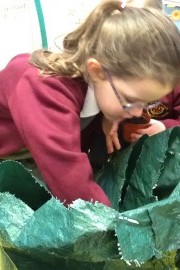 Planting seeds to grow in our garden centre role play area.
Category: FSU Blog
Threading a gingerbread man made of sandpaper.
Category: FSU Blog
Today we went to Liverpool World museum. We discovered lots of things about the Stone Age. We tried some jobs the Stone Age people did. Best trip ever!!!
By Charlie
Category: Year 4 Blog
We love learning in FSU. Sometimes we are so busy playing that we don't know we are learning!
by the FSU Team
Category: FSU Blog
On behalf of Year 6, Mrs Maguire and myself, I would like to thank the parents and carers who attended Open Evening last night. It was a great opportunity to celebrate the work and achievements of the children and set targets for their development. If anyone could not make the evening, please…
Category: Year 6 Blog
We painted our volcanoes. We painted them to show the inside.On the other side we made it look like a normal volcano.
By Faye and Shelby
Category: Year 4 Blog
We've come to the end of another very busy half term in Year 2/1. I'm very pleased with how hard all the children have worked. It was lovely to share their hard work and progress with so many parents on Wednesday evening. Thank you all for your support.
This week we had a DT day when we…
Category: Year 2 Blog